Moira Gay Huntly ATC PS RI RSMA RWA
"Mevagissey "
watercolour 18 x 20 ins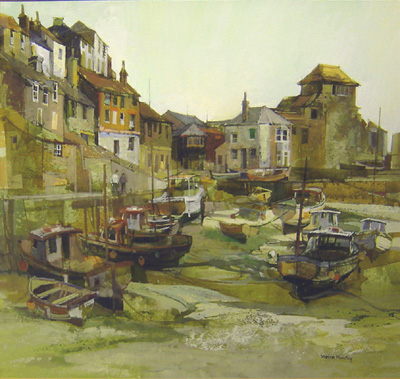 Moira Gay Huntly ATC PS RI RSMA RWA (1932 - )
Moira Huntly is an artist in acrylic, oil, pastel and watercolour. She is the President of the Pastel Society. Moira was born in Motherwell on 7th November 1932, was educated at Wirral County School for Girls, Harrow Weald County School, studied art at Harrow School of Art from 1948 to 1953 and Hornsey College of Art from 1953 to 1954. She exhibited at Young Contemporaries, Royal Society of Oil Painters, New English Art Club, Royal Institute of Painters in Watercolour, Pastel Society, Royal West of England Academy and the Royal Society of Marine Artists as well as in France and the USA . She married Ian Buchanan Huntly and her work is in many permanent collections and she has published many books.
Frederick James Aldridge
(1850 - 1833)

"A Town Quay Shoreham"
watercolour 14.5 x 21 ins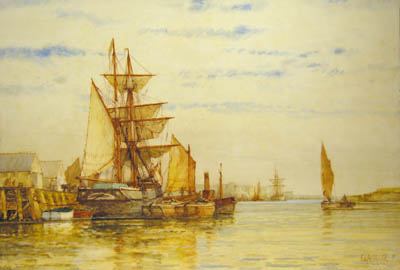 Frederick James Aldridge (1850 - 1933)
Frederick Aldridge was a marine painter , somewhat in the manner of T B Hardy. In 1876 he opened a fine art dealers "Aldridge" in Warwick Street in Worthing, later in 1905 his sons established "The Little Gallery" in the shop which was taken over in 1965 by Frost & Reed. His work is generally rather loose in drawing and the predominant colours are yellow, green and brown. He lived in Warwick Street, Worthing and painted scenes of the Channel Coast. He had a studio beside Nepcote Green in Findon, in West Sussex .He was a regular visitor to Cowes Week and held exhibitions in Brighton in 1909 and Dorchester the following year. He exhibited at the Royal Society of Artists Birmingham, Walker Art Gallery, Liverpool, New Gallery, and the Royal Academy, Royal Institute of Painters in Watercolour, Dudley Art Gallery, Manchester City Art Gallery, Royal Society of British Artists, Royal Hibernian Academy and at Royal Institute of Oil Painters Examples of his work can be found in Preston Manor, Brighton, Dudley Art Gallery.
Jack Jones
(1922 - 1993)
"Two Up 1988"
oil 19 x 21 ins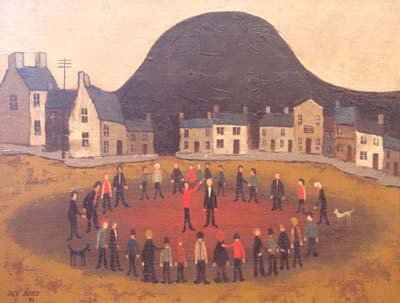 Jack Jones (1922 - 1993)
Jack Jones was a painter, teacher and writer who was born poor and illegitimate in Hafod Swansea, South Wales. He won a place at Dynefor School and went on to teach French and English, becoming Head of English at Barnes Grammar School, London. He became interested in Art in Paris in his late twenties and published a life of Van Gogh: "The Man Who Loved the Sun". Jack began painting in 1953, soon after returning to England from University in Paris and continued virtually untaught. His main subjects were the mining and industrial areas of his childhood. Although he was called "The Welsh Lowry" Jones denied Lowry's influence terming himself "The Leonardo of the slag heap" He was not a well man having six operations for cancer and two coronaries. By the age of 63 he was an alcoholic in a mental hospital. In 1985 he became a Roman Catholic, gave up drinking and worked with drug addicts and alcoholics in Chelsea. His exhibitions include Stephen Bartley Gallery 1988, Taliesin Arts Centre Swansea 1991 and Glynn Vivian Art Gallery. He lived finally in Putney in southwest London.
John Hassall RI RMS
(1868 - 1948)

"The Bargin"
watercolour 10 x 14 ins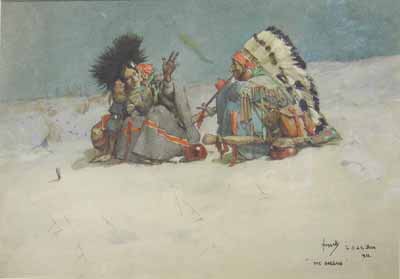 John Hassall RI RMS (1868 - 1948)
John Hassall was born in Walmer in Kent on May 21st 1868 into a naval family. His father was Lieutenant Christopher Clark Hassall of the Royal Navy. When John was 8 years old his father died. His step father was an Army man. John was sent to Newton Abbott College in Devon and later to Neuenheim College in Heidleberg. Disappointed at being rejected for Sandhurst he went to Manitoba Canada to farm. During this time he sent back cartoons and sketches to England, these accepted and published in the Daily Graphic. He meet Dudley Hardy on returning to England who advised him to attend the Academie in Antwerp. John contributed to Jerome K Jerome publication "The Idler" and many others. His work was exhibited at the Royal Academy. He was a member of the London Sketch Club, The Savage Club and the Knights Club. This picture was given in 1911 by Hassall to Steven Baghot de la Bere (exh 1877-1927) who was a fellow member of the Langham Sketch Club