Malcolm Edwards RCA

"Shattered Mountainside near Corris"
watercolour 21 x 14 ins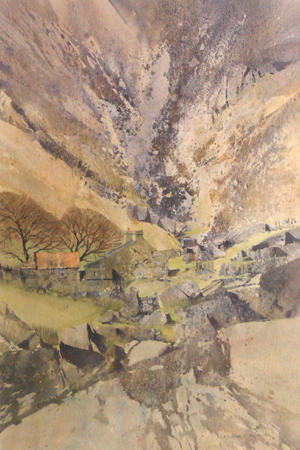 Malcolm Edwards
My paintings of Wales are inspired by the wild mountainous areas of Snowdonia and in particular Llanberis. A brutal glory of sculpted landscape on a heroic scale, precipitous rock strewn slopes, deeply glaciated cwms, jagged summits under inky skies and the spikiness of dew jeweled reed. Forbidding harsh and claustrophobic with the towering heights echoing with the voices of unseen climbers. Mans presence and the evidence of his sometimes fruitless struggle to extract mineral and slate and earn a living through his animals and cultivation is very important. Difficult terrain and the elements have been an ever present obstacle, but buildings and walls remain, often in ruin, recolonised by nature with blind eyed openings. The mood and drama is paramount and I want the viewer to be compulsively struck by the thought that it could only be Wales even if the image or a large portion of it is non representational, this means that the abstract must support the idea. There is obsession with the textures and forms of the buildings and landscape riven by the corrosive forces of wind and rain, and with the fickle changes of light and shadow on faceted surfaces. It seems natural that the medium is predominately water based, sometimes in a traditional manner but more often in a new more adventurous and unconventional style, as this reflects the way the elements were created. Capturing these textures involves constant experiment to exploit uneven drying combined with frequent washing out, and the staining quality of some pigments. Watercolour is considered difficult and subject to punishing vagaries, more positively the accidents don't happen...they are created. Out of the chaos of grainy texture, judicious darks suggest the reality of the subject.
Ernest William Haslehust
RI RBA RWA RBC
(1866 - 1949)

"Old Cottage Selworthy Devon"
watercolour 15 x 19 ins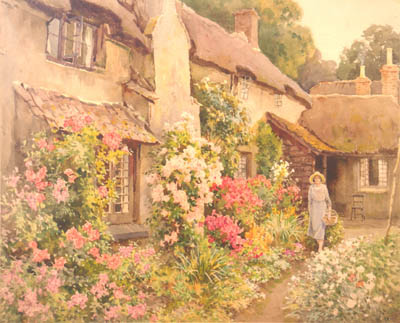 Ernest William Haslehust RI RBA RWA RBC (1866 - 1949) Ernest William Haslehust was born at Walthamstow, Essex on 12th November 1866, educated at Felstead Grammar School, Essex and University College, London. He studied art at the Slade School under Legros. He was a painter of landscapes, mainly in watercolour. He was elected RI in 1924 and RBA in 1911. Ernest William Haslehust exhibited at the Glasgow Institute of the Fine Arts, Walker Gallery in Liverpool, Royal Academy, Royal Society of British Artists, Royal Institute of Painters in Watercolour and the Ridley Art Club. He lived in South London and painted in England and Holland. Ernest William Haslehust was responsible for the illustration of many books. Blackie & Sons published a series "The Beautiful England Series" which were illustrated by him in conjunction with many authors including A G Bradley, John Geddie and G E Milton; such titles as The English Lakes; Edinburgh; The Thames and Dickens-land. His name is frequently spelt Haslehurst in many publications and the school he attended is wrongly identified in some publications as being in Hastings, it was not.
Albert Moulton Foweraker RBA
( 1873-1942)
" Moonlight on a Cornish Farm"
watercolour 11 x 9 ins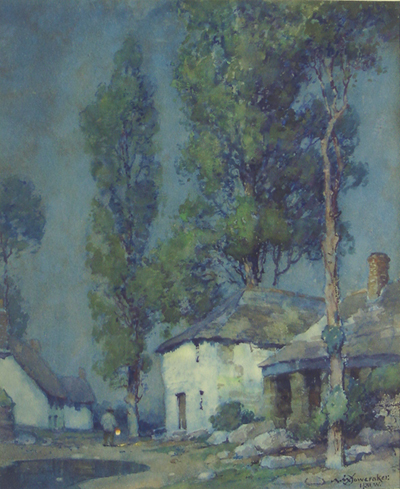 Albert Moulton Foweraker RBA (1873 - 1942)
Albert Moulton Foweraker was born in Exeter, the son of Reverend Edmund Thomas Foweraker, the headmaster of Exeter Cathedral School where he was educated. He was an exhibitioner at Cavendish College Cambridge and went onto Christ's College, Cambridge where he received a BA in Applied Science in 1893. He liked acting and music and rowed and played tennis for his college. He obtained a 1st Class Degree in 1896 as a Milling Engineer. Foweraker only took up painting in his early 20's and took it up professionally in 1898. His training was done in St Ives where he is recorded as organised painting expeditions for some of the members of the club to Andalucia in 1905 His address at this time was Villa Camara in Malaga. He was a member of the RBA from 1901 to 1912 exhibiting 52 pictures. He exhibited at the RA and many London galleries as well as galleries in Birmingham, Glasgow, Liverpool and Manchester. He is well known for his painting of light effects particularly "Moonlight". He became a member of the St Ives Society of Artists in the mid-1930's. Albert started an "Exhibition of Works by Modern Painters in Exeter" which later became "Devon and Cornwall Fine Art Society". He travelled extensively in Europe to Spain, France and North Africa. He lived in Carbis Bay, Lelant, Cornwall in 1901 and at Northbrook Road, Swanage for many years. He left certain documents and papers relating to the Titanic disaster of 1912 where he was very suspicious of the enquiry findings, these were to be lodged in the British Museum. He died on 14th January 1942 at Swanage aged 68 and is buried in Godlingston Cemetery, Ulwell, Swanage.
Jack Merriott RI ROI PS SMA
(1901 - 1968)

"The Farmyard "
watercolour 15 x 19 ins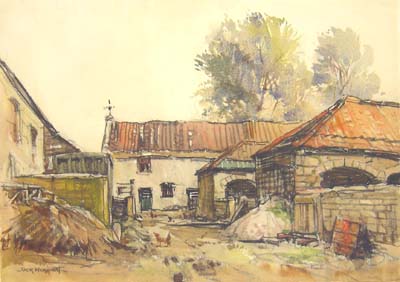 also see main image by Jack Merriott "Loch Awe towards Ben Cruachan" watercolour 10.5 x 15ins
Jack Merriott VPRI ROI PS SMA (1901 - 1968)
Jack Merriott was born on 15th November 1901 and studied art at Croydon School of Art and St Martin's School of Art. He painted landscapes and portraits in oil and watercolour. He started work as a shipping clerk in a company exporting heavy machinery to South Africa but soon painted full time for a living. He exhibited at the Royal Academy, Royal Institute of Painters in Watercolour, Royal Institute of Oil Painters, Royal Society of British Artists and Royal West of England Academy. He was elected RI in 1944, PS in 1951, SMA in 1954, ROI in 1959, President of the Wapping Group of Artists from 1947 to 1960, member of the Langham Sketch Club and the St Ives Society of Artists. Bradford City Art Gallery and Sunderland Museum and Art Gallery hold his work. He lived in Shirley in Surrey and Storrington in Sussex before moving to Polperro in the early 1950's. Jack moved back to Storrington, as travel to his many commitments throughout the UK was difficult from Cornwall. It was in 1968 when he was driving home to Storrington he skidded on black ice and was seriously injured. He never recovered from his injuries, dying later in that year. One of his hobbies was sailing and he also designed and painted posters for British Rail and other tourist agencies throughout the UK. A memorial service was held at "the artist's church", St James in Piccadilly London in 1969. He was selected to paint the Coronation of Queen Elizabeth II in Westminster Abbey from The Triforium for the Sphere Magazine.