Albert B Houghton AMC FRSA (1906 - 1997)
"Monet's View of the Houses of Westminster"
watercolour 14 x 21 inches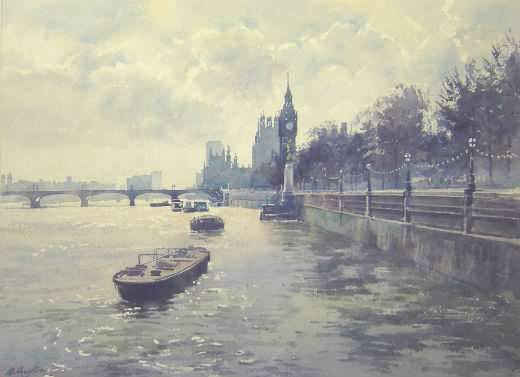 Albert B Houghton AMC FRSA (1906 - 1997)
Albert Houghton was born in Kossington in Leicestershire on 15th January 1906 and studied art at Wimbledon School of Art. He was a teacher of Art at Western Road School, Mitcham and a life member and President of the Carshalton and Wallington Art Group from 1978 to 1997. In 1987 Albert Houghton started a landscape painting competition in the Carshalton and Wallington Art Group for which he gave a money prize of £10. The competition was judged by him at their Annual General Meeting. This ceased when he moved away in 1996 to live near his son. Bert, as he was known to everyone, was a well loved member and did so much for the group, he was sorely missed when he moved away. From 1998 the Bert Houghton Memorial Award was inaugurated as an annual provision of a voucher for £15 to go with the May Crick Silver Salver, awarded as first prize for the best landscape painting. A second prize of £5 is also given. Both prizes to be awarded at the Annual General Meeting and judged by Club members present at the AGM. A painting by Bert Houghton is on the cover of the original history of the Carshalton and Wallington Art Group. He exhibited at the Royal Institute of Painters in Watercolour, Royal Society of Marine Artists and at Suffolk Street. His work is in private collections in Australia, Canada, Holland, Italy, Japan, Singapore, USA and Germany. He was very proud of two of his students (Stan Riley and Edward Draper) who attended and gained degrees to the Royal Academy School via Wimbledon Art School. A member of the Wapping Group of Artists , he lived in Carshalton and held an exhibition each year at Sutton Library. When his wife Molly died he retired to Kossington to be close to his son.
Edward Wesson RI RBA RSMA

(1913 - 1983)
"Arundel from the River"
watercolour 10 x 14 ins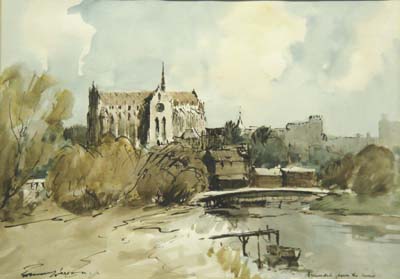 Edward Wesson RI RBA RSMA (1910 - 1983)
Edward Wesson was a painter in oil but mainly watercolour handling a variety of subjects with an assured wash technique. Born on 29th April 1910 in Blackheath, southeast London, he learned "from reading of the methods of such masters as E W Haslehust and Adrian Hill and by bitter experience". Edward Wesson spent 20 years perfecting his technique before exhibiting, then he was a prolific exhibitor at the Royal Academy, National Society of Painters, Sculptors and Gravers/Printmakers, Royal Society of British Artists, Royal Institute of Oil Painters, Royal Institute of Painters in Watercolour as well as provincial galleries. He was a member of the Wapping Group of Artists. He contributed to the Leisure Painter and Artist magazines and painted posters for British Rail and the National Savings Bank. He lived locally in Guildford and the Borough hold some of his work.
Anne Mortimer RMS SBA
1958-
"Santa's Sliegh"
watercolour 9 x 6 inches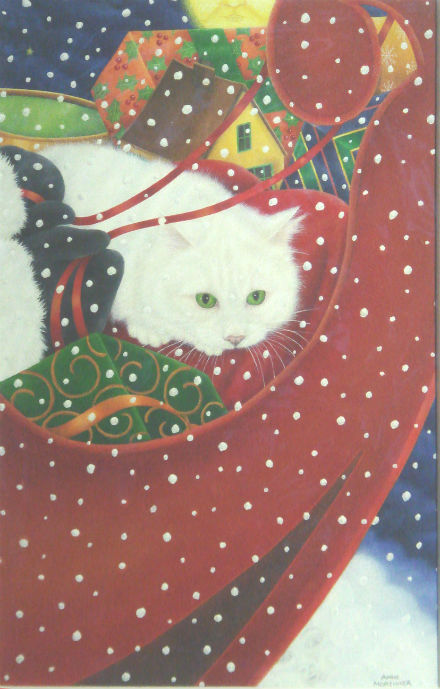 Anne Mortimer (1958- )
Anne Mortimer is recognized as one of the finest contemporary painters of cats in the world today. In addition to her impressive collection of cat illustrations, Anne is also an accomplished painter of birds and botanics. She has won an honourable mention from the society of Miniature Painters for her work in these subjects. Anne's work has been reproduced as home decor products including fabrics, china, collector plates, tinware, needlecraft and stationeary. Her licenses include Wedgwood, Danbury Mint, Coverleaf, R.S.P.B, W.H Smith, Marks & Spencer, and in the U.S.A., companies such as Mosaic Designworks, Hendostone Products, Santa Barbara Ceramic Design, Sunsout Puzzles and the Toy Works. She has exhibited with the Society of Illustrators U.S.A., best children's books of the year 2002/2003 Bonhams Auction house London, The Royal Miniature Society (R.M.S) and the Society of Botanical Artists. Since 1990 Anne has worked with Harper Collins book publishers & Hyperion Walt Disney children's books U.S.A.
Frank Sherwin RI RSMA
(1896 - 1985)

"River and Bridge"
watercolour 12 x 18 inches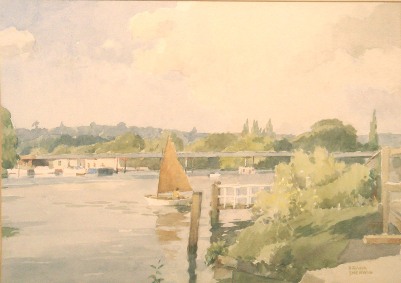 Frank Sherwin RI RSMA BWS (1896 - 1986)
Frank Sherwin was born in Derby on 19th May 1896 son of Samuel Sherwin (Exh 1884 - 1899) Marine and landscape painter in oil and watercolour. He studied at Derby School of Art and Heatherley's in 1920 under Henry Massey. He was elected RI in 1950 and RSMA in 1967. He exhibited at the Royal Academy, Royal Institute of Painters in Watercolour and the Royal Society of British Artists. His work is held in National Maritime Museum, Derby Gallery and has been reproduced by Frost and Reed, British Rail and the Medici Society. He lived in Cookham in Berkshire for many years and published articles in The Artist. He died on 1st July 1986.