Jane Corsellis NEAC RWS RCA
Jane Corsellis is a painter, draughtsman and printmaker who was born in Oxford. She studied art at Byam Shaw School of Art 1960-64 gaining the Leverhulme Scholarship and final year painting prize. She exhibited with Young Contempories and at the RA Summer Exhibition. After college she painted in Spain before becoming a teacher for two years. From the early 1970's she travelled extensively including Canada, Malaysia, India, Thailand, Indonesia and Australia. As well as showing abroad she continues to exhibit with the NEAC and RBA both of which she is a member. She has had a series of solo shows at New Academy Gallery and has published her book Painting Figures in Light.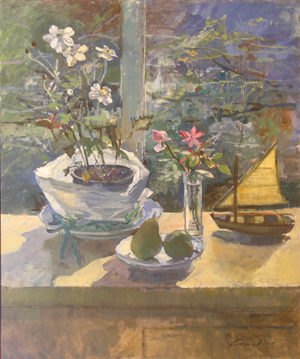 Jane Corsellis Still Life with Toy Boat

watercolour 23 x 22 inches
Tom Robertson ROI, RBA (1850 - 1947)
Tom Robertson was a marine painter in oil, pastel and watercolour. He was born in Glasgow on 25th June 1850 and studied at Glasgow School of Art and in Paris under Benjamin Constant. He exhibited 15 works at the Royal Academy, Fine Art Society 77 times, Grosvenor Gallery once, Glasgow Institute of Fine Arts 92 works, Royal Society of British Artists 52 works, Royal Institute of Oil Painters 51 works, Royal Scottish Academy 7 works as well as many galleries throughout the UK, America, Australia and New Zealand. He won a gold medal at the Munich Exhibition an Honourable Mention at the Paris Salon and a gold medal at Nantes in 1910. In 1898 he visited Morocco, where he painted in the south of that country and in the Atlas Mountains, works from this trip were exhibited at the Fine Art Society. He also worked in Venice and one of his works was bought by the King of Italy. His work is represented in the Luxembourg Museum in Paris. He was elected an RBA in 1896 and ROI in 1912. He lived in Uddington, Glasgow (257 West Campbell Street) and London later, after a heart attack in 1922 he moved to Eastbourne to live with his daughter and died there on 3rd February 1947.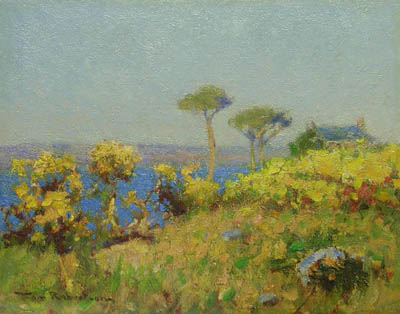 Tom Robertson ROI, RBA (1850 - 1947)
Gorse on a Cliff Top
oil 7 x 10 inches